Decatur Book Festival: Along with our CBAIS booth next to the Children's Stage during the Decatur Book Festival, check out our CBAIS members who will be onstage at the following times:
Elizabeth O. Dulemba
Mingei World Arts, Saturday 11:30 am
Children's Stage, Sunday 5:00 pm
Connie Fleming
Emerging & Exhibiting Authors Stage, Sunday 3:20 pm
Denene Millner
The Escape Stage, Saturday 1:00 pm
Diane Z. Shore
Children's Stage, Sunday 4:00 pm
Mary Ann Rodman
Children's Stage, Saturday 3:00 pm
Vicky Alvear Shecter
Teen Stage MC, Saturday 12:00 - 6:00 pm
For more information, visit the
Decatur Book Festival
website.
After the Event Roundup:
Saturday:
Our
CBAIS (Children's Book Authors and Illustrators of the South)
is so perfectly located right in front of the children's stage and we remained packed with people throughout the day. We're giving away a free bag of books to a local school, so people were filling out raffle tickets like crazy. Teachers, Media Specialists and a Principal or two visited with LOTS of questions. Many asked how they could join. Others just bought books like crazy and had them signed if that author/illustrator was in the booth at the time. Comments of "Wow, he/she is local?" were heard throughout the day - our main purpose for organizing.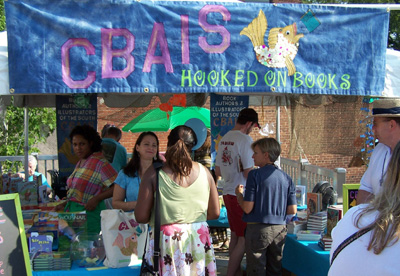 The five of us who created CBAIS have been blown away by the attention our group is getting. We've obviously hit a nerve. I'll share more news about our future soon...
And yes, that was
our
bubble machine that made it into the AJC along with fellow CBAIS member,
Jamie Dodson's
book cover in the background. (Click the image to see more DBF photos at the AJC website.)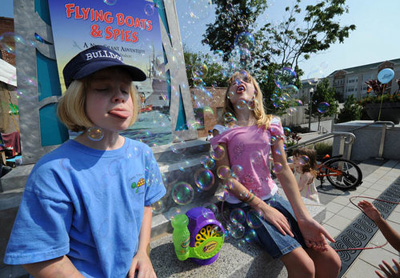 Sunday:
Back to the
CBAIS
booth at 12:00 we actually had a breeze this time. The crowd was a little bit smaller, but calmer which made for a lovely day. We made more great contacts and did a drawing to give away a free bag of books to a local school.
Mary Ann Rodman's
daughter, Lily, drew the winning ticket - Jennifer Frederick, Counselor at Cheatham Hills Elementary School was the winner and the steering committee will be presenting the book bag (almost a $400 value) on September 24th. Mary Ann (in the red hat) and her daughter are surrounded by our steering committee: me; Connie; Susan; Vicky; and Liz.)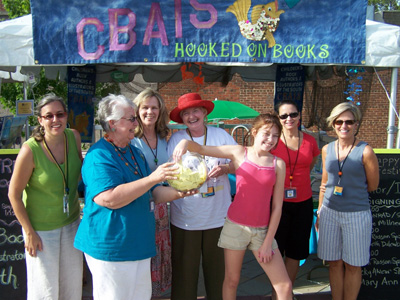 I gave them hugs all weekend long, but I want to publicly give thanks once again to all the people who make the Decatur Book Festival the amazing event it is:
Tom Bell and Daren Wang
of the DBF; Diane Capriola, Dave Shallenberger and the rest of the staff at
Little Shop of Stories
who worked unbelievably hard and supported our CBAIS efforts all the way through; my fellow CBAIS steering committee members,
Liz Conrad
,
Susan Rosson Spain
,
Vicky Alvear Shecter
and
Connie Fleming
; and to all the rest of the DBF staff and volunteers. It takes an army to pull this thing off, but we did and it was a HUGE success once again (can't wait to hear the numbers).
Signing off: e (Elizabeth O. Dulemba)